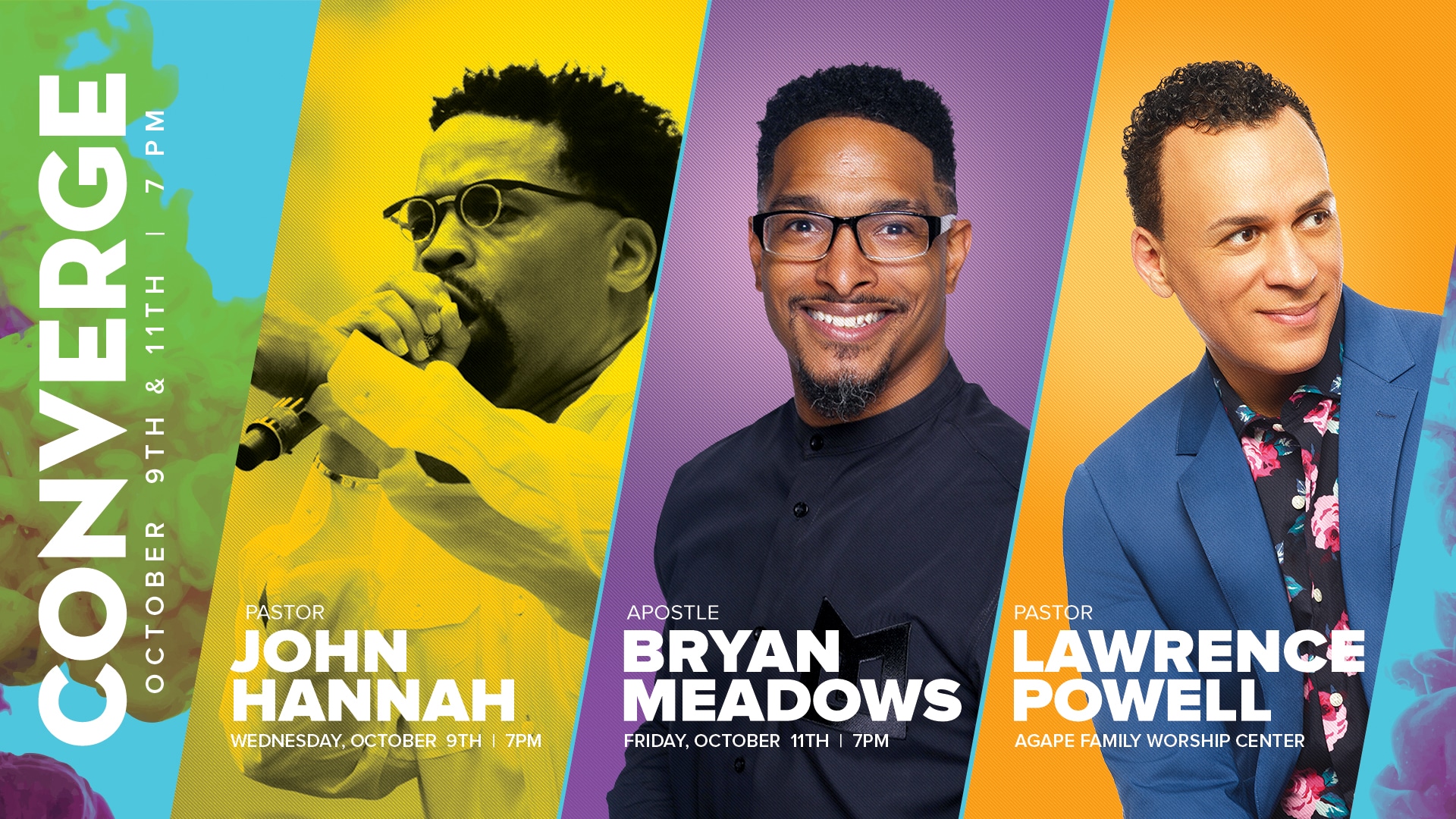 October 9th & 11th
Converge 2019
Join us for Converge 2019, October 9th & 11th with Pastor John Hannah, Apostle Bryan Meadows, & Pastor Lawrence Powell – we'll see you there!
""If every Christian fasted, the results could shake our society like a windstorm bending a sapling. Christians would demonstrate that they live differently, that their faith is imperative, that the Almighty works in their daily lives."

Elmer Towns
It's Prayer and Fasting Time!
The examples of Scripture are as important and binding as are its direct commands (1 Corinthians 10:11; Romans 15:4). Scripture explicitly teaches us to fast and pray.
▪
Jes
us Christ is our Pattern (1 Peter
1:21)
in all matters
.
▪
The LORD's
fasting during His temptation in the wilderness is our example, just as His prayers during the temptations
are
in the garden.
▪
Likewise
, we are told that the
Apostle Paul is to be imitated (Philippians 3:17; 4:9).
Note the mention in Scripture of
Paul's
frequent fasting (2 Corinthians
11:27).
Simply put, fasting means to abstain from food for a period of time for a spiritual purpose or goal.
In Matthew 6, Jesus presents three specific spiritual activities and gives instructions as to how the disciples should perform each in a way that pleases God. His speech assumes the disciples would already be doing these things: "When you give…when you pray…when you fast…" Notice Jesus says "when" rather than "if".
Wednesday and Friday, October 9th and 11th
In his book, The Power of Prayer and Fasting, Ronnie Floyd aptly asserts, "God's gateway to supernatural power can become ours when we come to our heavenly Father with contrite hearts and obedient spirits in fasting and prayer." He goes on to say, "One purpose of prayer and fasting is to bring our hearts to a place of being filled with a sacrificial love that results in godly attitudes in our lives. True fasting will draw us closer to God and His purposes."
In preparation for CONVERGE please join me in prayer and fasting—Wednesday, October 2nd & 9th AND Friday, October 11, 2019. When fasting and praying remember:
▪
Prayer and fasting
allows us to come before God in humility and repentan
ce
(1 Samuel 7:6)
.
▪
It prepares us for ministry  (Matthew 4:1-17
; Acts 14:23
)
.
▪
It helps us to focus on God, and to become sensitive to th
e leading of the Holy Spirit.
▪
Prayer and fasting position
s us
for
major
breakthroughs.
 For instance, a
fter losing forty thousand men in battle in two days, the Israelites cried out to God for help. Judges 20:26 says all the people went up to Bethel and "sat
weeping before the Lord." They also "fasted that day until evening." The next day the Lord gave them victory.
▪
Prayer and fasting is worship.
E.g. Prophetess Anna, a widow woman "
of about eighty-four years, who did not depart from the temple, but served
God
with fastings and prayers night and day. (Luke 2:37)
▪
God's p
romise
:
"
If my people, who are called by my name, will humble themselves and pray and seek my face and turn from their wicked ways,
then will I hear from heaven and will forgive their sin and will heal their land."
  (2 Chronicles 7:14)
Thank you and Shalom,
Lawrence Powell