COVID-19 Testing for the Agape Community: Members, Family & Friends
Only 500 Tests Available!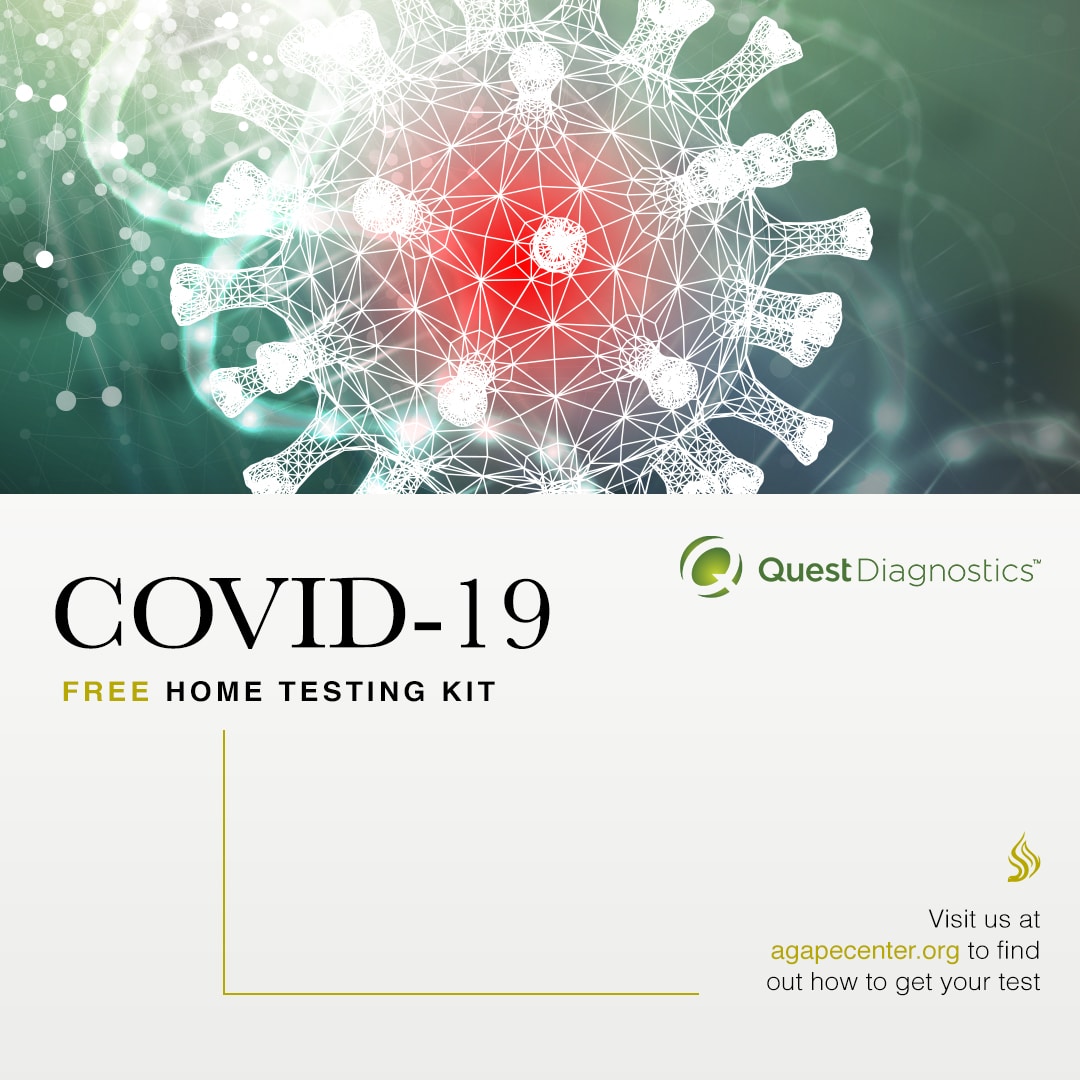 Frequently Asked Questions
How do I receive a COVID Test?
You create an account on the health portal, My.QuestForHealth.com with the Registration Key, AFWC.
You will be asked to provide some personal information including your date of birth, your contact information, and mailing address.
You will also take a brief medical survey about your symptoms, risks, and pre-existing conditions to determine your COVID-19 risk status.
If you are at risk for SARS-CoV-2 (COVID-19) and have mild symptoms or are asymptomatic, you will be able to order a self-collection kit.

The

self-collection test will be mailed to you for a nasal specimen that can be returned to the lab in the pre-addressed mailer.
You will be contacted with your results through the portal. If your results are positive for the COVID-19 virus you will be contacted by a physician for next steps.
Can non-Agape members get tested too?
This program is open to anyone—members of Agape Family Worship Center (AFWC) as well as family and friends.
How long does it take to receive a kit once it is ordered?
Kits are shipped overnight once order is received. Participants can typically expect these kits within 3-4 days
How long will it take to receive the results?
Due to the high demand for COVID-19 testing, the average turnaround time for the kit is 7 days. While some patients may receive their test results as quickly as 2- days, a small subset a patients may experience wait times longer than a week.
How much does it cost? Do I need insurance to participate?
No to both. 500 COVID-19 Test kits have be donated by Quest Diagnostics for our Agape community, completely free of charge—No cost for the test kit or the testing process or the postage.
How long is the testing available for the Agape community?
Quest Diagnostics has donated 500 test kits to Agape in an effort to make testing available to communities at risk for COVID-19 infection and complications.   Once those donated kits are used, the Agape program is complete.
Can everyone get tested regardless of symptoms, exposure or pre-existing conditions?
You will then need to answer a few questions to determine your COVID-19 risk status
You will also be prompted to indicate your race and ethnicity for public health reporting purposes
If you have severe SARS-CoV-2 (COVID-19) symptoms, you will receive a message prompting you to seek medical care immediately
If you are not at risk, you will be shown a message that states you are not eligible for a kit at this time; you will be able to complete the questionnaire again if your situation changes
If you are at risk for SARS-CoV-2 (COVID-19) and have mild symptoms or are asymptomatic, you will be able to order a self-collection kit
Has this Quest self-collection COVID test kit been validated by the FDA?
Absolutely. On May 28th 2020,  Quest Diagnostics received emergency use authorization (EUA) from the U.S. Food and Drug Administration (FDA) for the Quest Diagnostics Self-collection Kit for COVID-19 (self-collection kit). Quest scientists at the advanced diagnostics laboratory in San Juan Capistrano, California developed the technology for self-collection COVID testing, which has been validated in real-world settings i.e. at drive-thru and other onsite COVID-19 testing sites across the United States. This testing aids in diagnosing infection with SARS-CoV-2, the virus that causes COVID-19.
What are the benefits of a COVID-19 self-collection kit?
The self-collection kit was developed to be very user-friendly, with the specimen collected at home and without the need to directly involve a healthcare professional to perform or observe the collection.
Key features of the self-collection kit include:
Self-collection by individuals, at home, with a consumer-friendly nasal swab approach
Overnight shipping to the individual and back to Quest Diagnostics with FedEx, leveraging their extensive logistics network
Specimens shipped at room temperature, which eliminates the need for ice packs
Availability for children less than 18 years of age (with adult supervision)
Results reporting through the my.QuestForHealth patient portal
Test data reported by Quest Diagnostics to the relevant departments of health as required
Do I need to drive up to the church for the test?
No. This testing program involves COVID-19 self-collection tests that are performed in your home without having to go to a doctor's office or testing site. Test kits are mailed to you via FedEx and return by self-addressed FedEx mailer to the lab. Registration for the program is done completely on-line via the My.QuestForHealth.com, patient portal.
Why am I getting the following pop-up message on the "Confirm Your Eligibility" page: "We are unable to find you. Make sure what you provided is your correct and legal information."
Because this program is open to Agape members and their family and friends, there is no predefined list of people who can participate. To get past this message,  simply click OK and verify the information that your Date of Birth is correct and click CONTINUE.  It will take you to the next screen to continue your registration for the testing.
Additional questions can be directed to [email protected]